by Libby and Jo Anne Cooper, Mobilia Gallery
July 19, 2023
---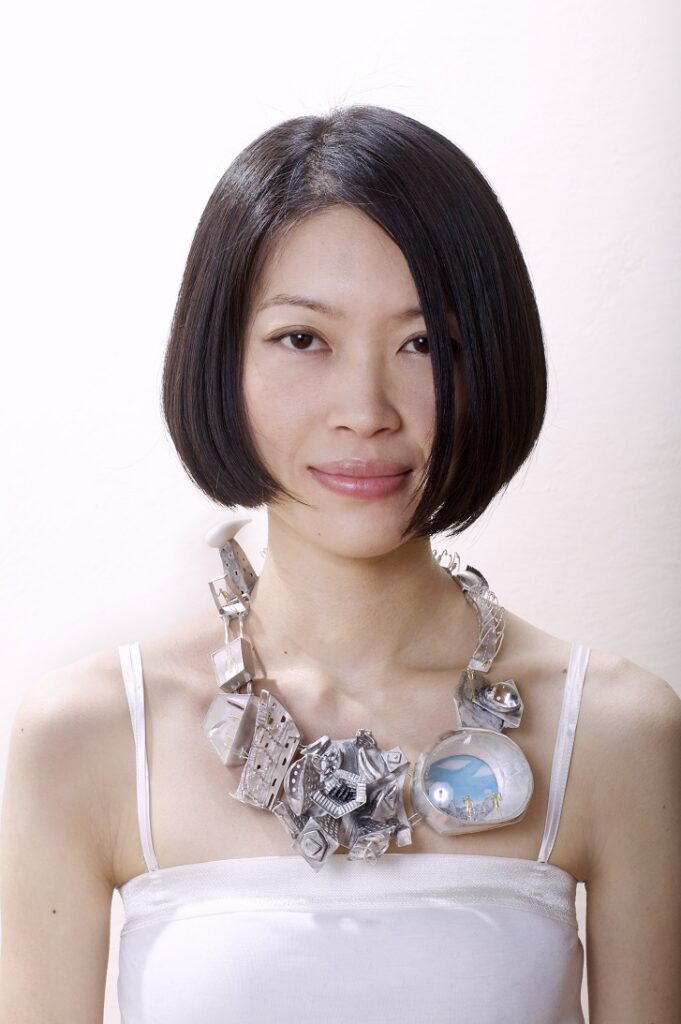 MOBILIA GALLERY: What inspires you?
MAEDA ASAGI:  It depends on the work, but I guess it's the desire to preserve various life experiences into my works somehow. Particularly I had strong desire to encapsulate cherished and ordinary daily memories with my father, who passed away, along with the emotions from that time and the present, into jewelry.
I often pursue sensations from mysterious dreams, leading to dream-inspired creations. During the period of the big earthquake or the pandemic, my heart ached, and I wanted to encapsulate sparkle moments of peace and happiness into jewelry. I feel that I always draw inspiration from events and occurrences in life.
Commonly, my interests lie in "the flow of time" and "space." Recently, while visiting Osaka Castle, I saw a folding screen depicting the Battle of Osaka in the summer, where various battle scenes and the passage of time were depicted on a single screen. This resonated with my desire to express stories that transcend time and space simultaneously. Perhaps this is a sensibility inherent to Japanese people.
Moreover, there is a part of me that seems to observe things from a detached perspective. Since I was young, I've gazed at the rows of apartments and felt that they contained various life stories. I've also been intrigued by moving boxes carrying people (trains and elevators) and, like observing ants in a line, found it fascinating to watch crowds of people busily coming and going. I've translated these observations directly into my jewelry. It might be a sensibility influenced by growing up in Tokyo.
I create a "stage" that can be worn and unfold stories upon it. This is the sensation with which I approach my work.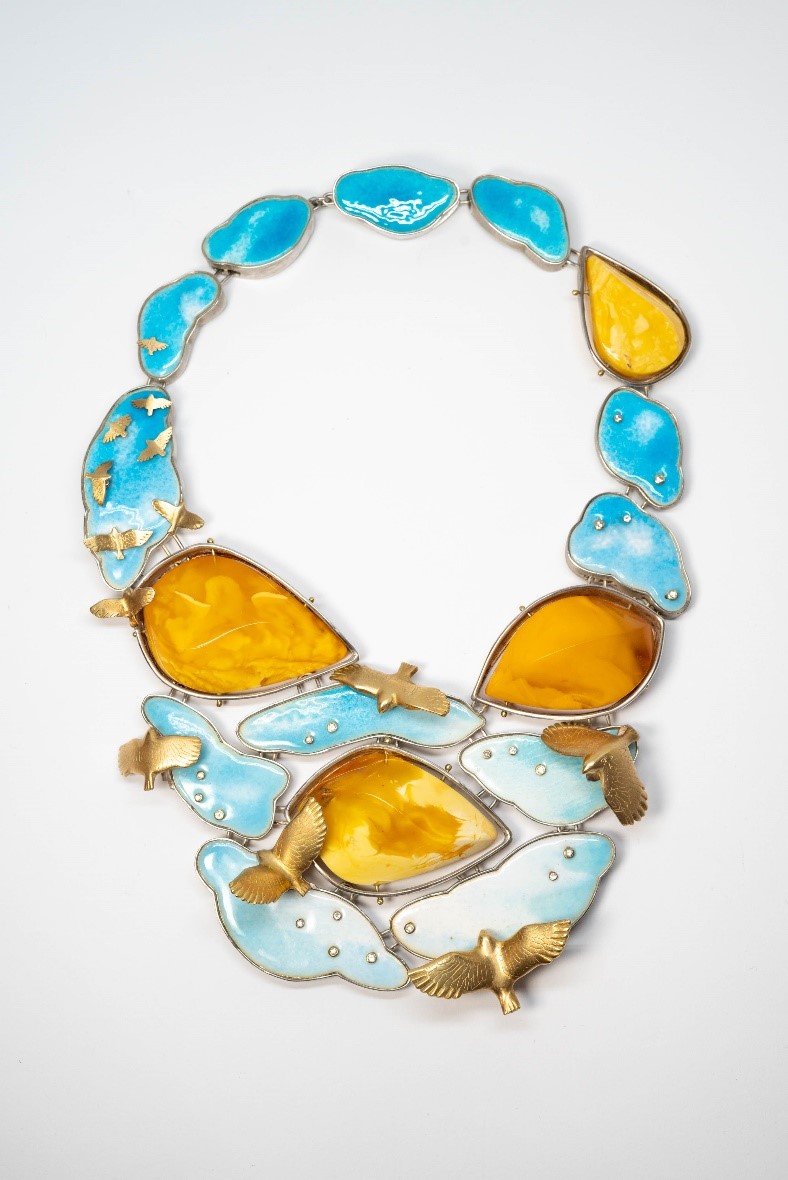 MOBILIA GALLERY: When did you start making jewelry?
MAEDA ASAGI: In 2001, I enrolled in the Jewelry program at FIT, a community college in New York. Since then, I have been continuously creating jewelry. However, my true first experience with jewelry was during my third year of university when I took a wax carving class in a jewelry vocational school. I decided to learn jewelry making because it would be beneficial for our family business, but I found it dull and quit after three months. It was during that time in the jewelry school that I stumbled upon Metal Smith Magazine, which sparked my admiration for contemporary jewelry in America and led me to make the decision to study abroad in New York.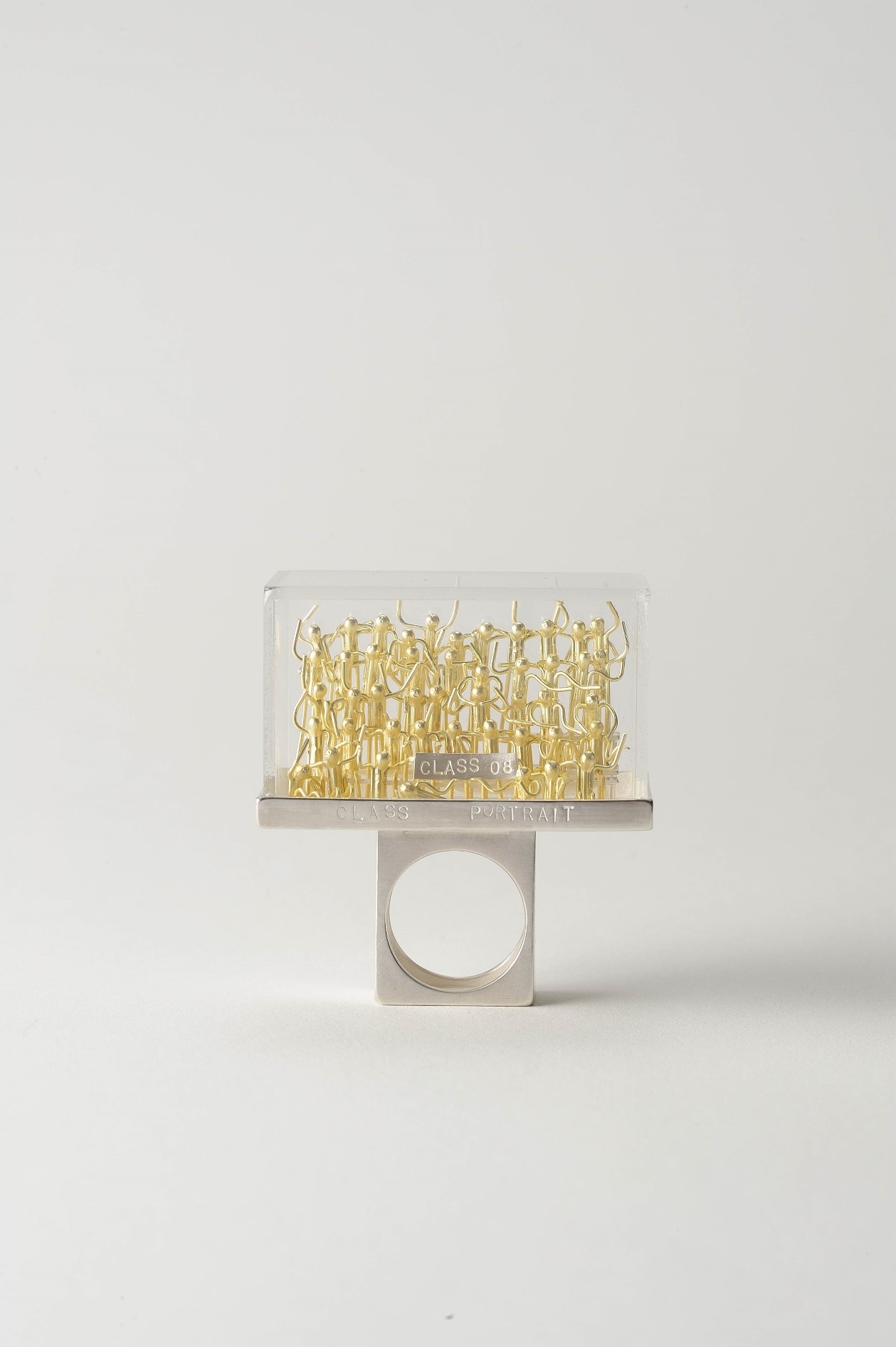 MOBILIA GALLERY: How was your experience at FIT?
MAEDA ASAGI: It was a wonderful experience. After graduating from an art university in Japan, I transferred credits and learned jewelry making for a year. At that time, classes at FIT started at 8 a.m. and I would work on my projects until 2 a.m. every night, which was great. I was able to create almost every day until 2 a.m. The assignments were very open-ended, and we were allowed to make whatever we wanted. The teachers were willing to teach us anything we were curious about. It was an environment that would be unimaginable in Japan. Even though it was a short period from September enrollment to graduation in May of the following year, I learned almost all the techniques that I use today.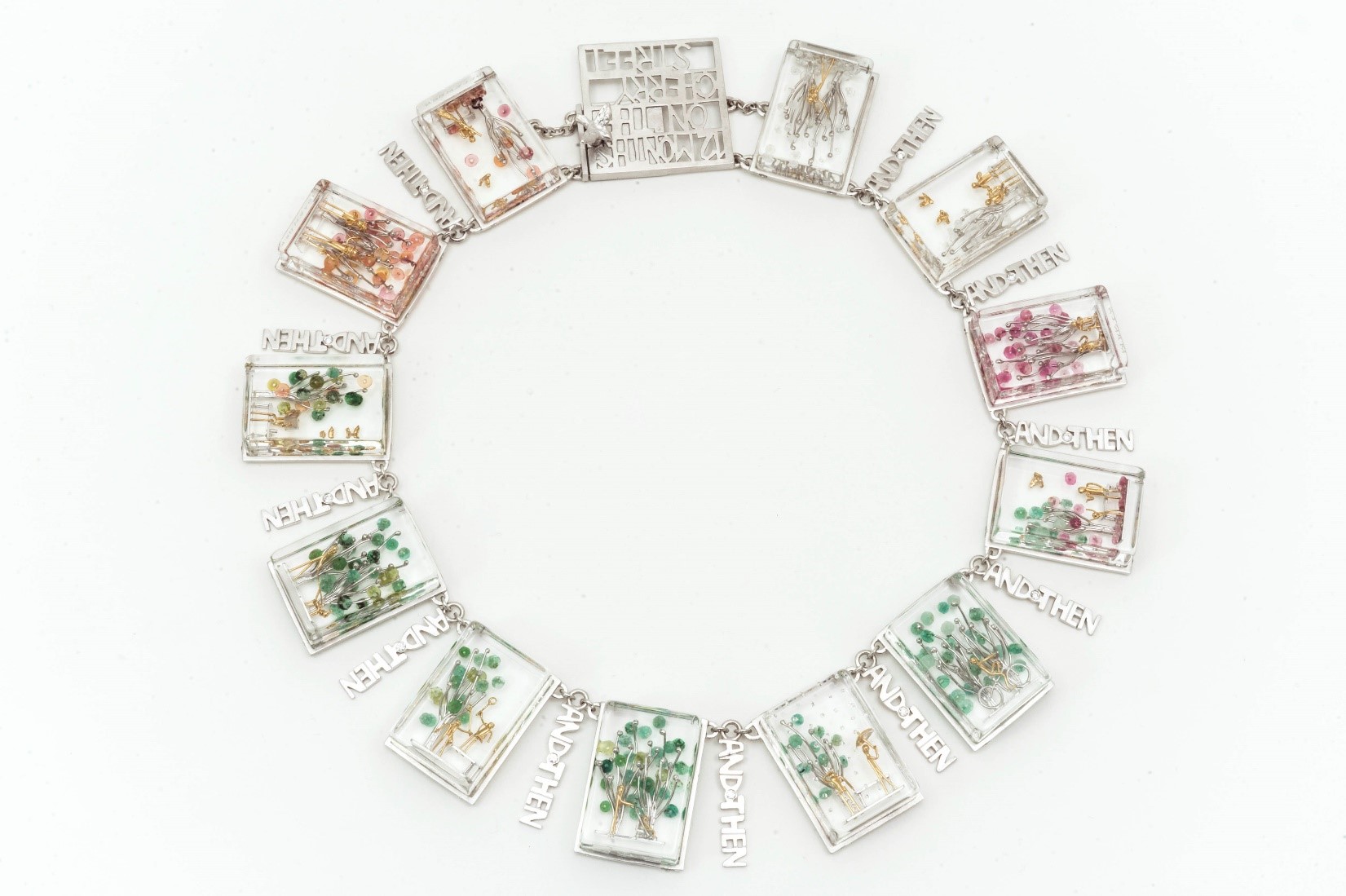 MOBILIA GALLERY: When did you start writing stories?
MAEDA ASAGI: I loved writing stories since I was a child. During elementary school, I drew picture books. In university, while creating sculptures, I exhibited poetry alongside them. So, the idea of incorporating stories into jewelry naturally emerged within me. During my time at FIT, in a clasp-making class, I crafted a bracelet that depicted the story of a salaryman's day. The concept connected the bracelet with the circle of life, the repetitive routine of daily life, symbolized by the loop of the bracelet, akin to the cycle of a salaryman's life—waking up, taking the crowded train to the office, working, returning home, showering, and sleeping. However, by taking off the bracelet, one could escape from the monotonous repetition of everyday life. I imbued this narrative behind the creation.
Mobilia took a liking to that bracelet, and that marked the beginning of my journey as an artist. For me, stories are an integral and inseparable part of my work and creative process.
MOBILIA GALLERY: Do you remember the year you visited Mobilia to show us your work?
MAEDA ASAGI: It was the Summer of 2003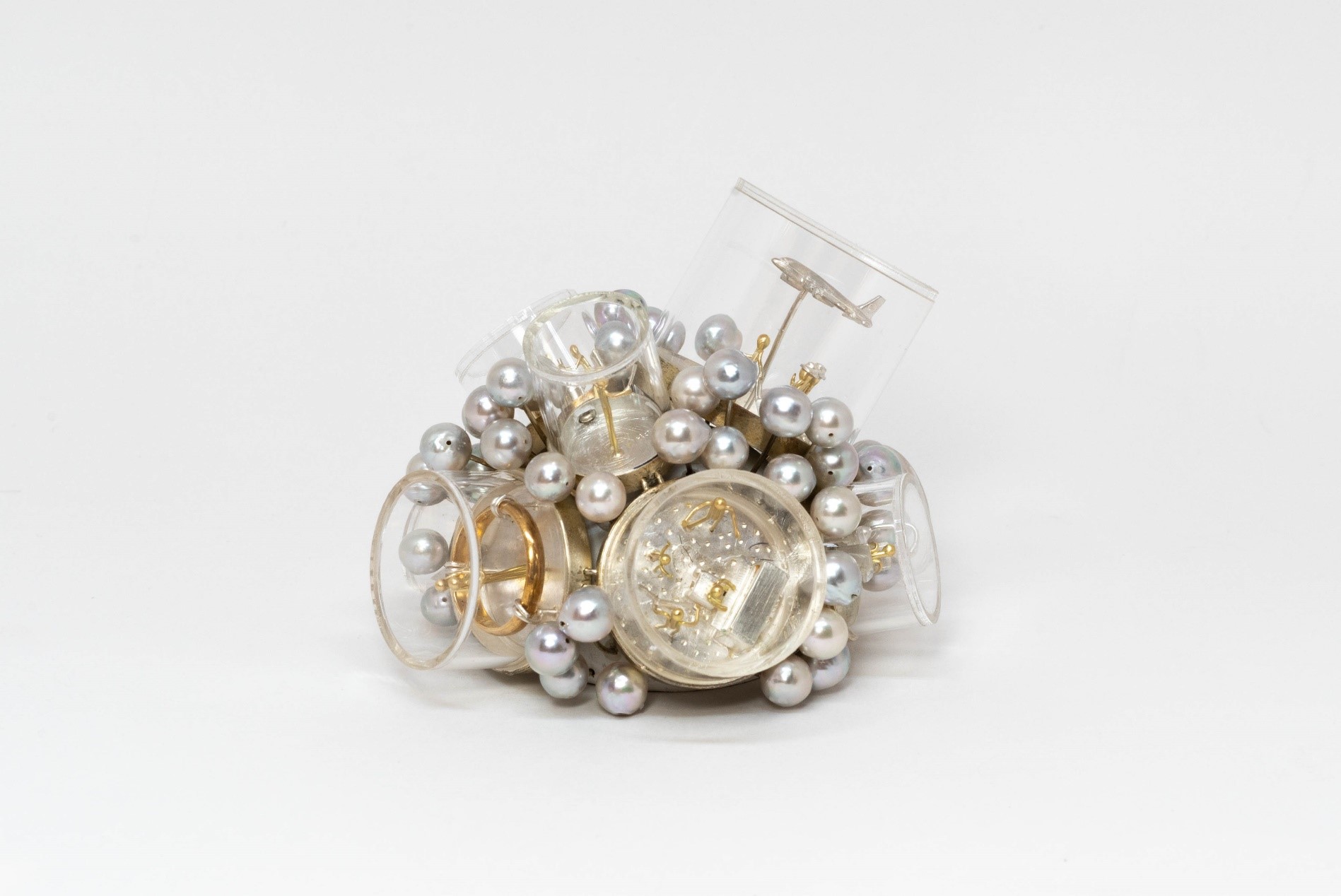 MOBILIA GALLERY: How does your family influence your work?
MAEDA ASAGI: My grandfather lived on a small island called Kashiko-jima in Mie Prefecture, which had a circumference of only 4 kilometers. He engaged in pearl cultivation and it was my mother's ancestral home. My mother left for Tokyo, relying on her aunt, after finishing junior high school. She then attended an art school where she studied sculpture and Western painting. In her youth, my mother not only painted but also processed my grandfather's pearls into necklaces to support herself financially. After getting married and giving birth to me, the demand for pearls increased, and she led a busy life, crafting necklaces and selling them. However, she wanted to instill in me the joy of creativity, so she started an art class at home. From the age of 4 until I turned 12, she held these classes for me once a week.
My mother's art class was a place of great freedom and enjoyment. We painted, worked with clay, and even created puppets, coming up with stories and producing puppet shows together. I believe it was within this joyful atmosphere that my current artistic style naturally emerged. The influence of my mother on my creativity has been immense.