Open to all Morikami Members
Embark on a thrilling literary journey with Benefactor member Christine Carton and fellow Morikami members as they kick off a brand new season of riveting book explorations!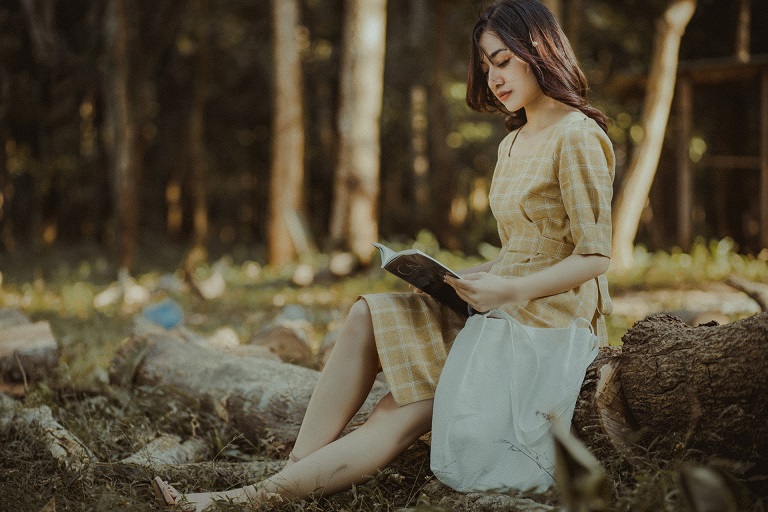 Morikami Book Club 2023-2024 Selection
October 11 – Dead-end Memories Stories: By Banana Yoshimoto
A collection of 5 stories was first published in 2003.  As expected, this book will make readers especially hungry for Japanese food, hot pot, cake rolls, and even a bag of convenience store food you share with someone.  In "House Ghosts," a young couple spends the night in an apartment where deceased landlords still linger in the kitchen, seemingly unaware of their condition. Yoshimoto's usual script imagines the consequences of a meal to harm.  The Titular story shows how one friendship-however brief, can hold the key to overcoming one 's deep-rooted traumas.  These stories don't necessarily have predictable happy endings.
November 8 – The Book of Tea: By Okakura Kakuzo
The original 1906 edition of The Book of Tea is one of the classic texts found on the desks of artists, poets, and Zen Buddhists around the world.  The book has been redesigned and expanded for a contemporary audience.   You will discover the fascinating character of Okakura Kakuzo and the story of how he came to write one of the twentieth century's most influential books on art, beauty, and simplicity—all steeped in the world's communal cup of tea. His incredible journey took him from Yokohama to New York, Paris, Bombay, and Boston, where his life intertwined with such luminaries as Rabindranath Tagore, John Singer Sargent, Henry James, John La Farge, Isabella Stewart Gardner, Ezra Pound, and Matisse. His writings influenced the work of such notable artists as Frank Lloyd Wright and Georgia O'Keeffe.
December 13 – Dave Barry Does Japan: By Dave Barry
Not since George Bush's memorable dinner with the Japanese prime minister has the Land of the Rising Sun seen the likes of a goodwill ambassador like Dave Barry. Join him as he belts out oldies in a karaoke bar, marries a geriatric geisha girl, takes his first bath in public, bows to just about everyone, and explores culture shock in all its numerous humorous forms, including: Failing to Learn Japanese in Only Five Minutes (Or: "Very Much Good Morning, Sir!") ; Humor in Japan (Take My Tofu, Please!).
January 10 – Curious Case of Inspector Hanshichi: By Kido Okamoto
Stories told through the eyes of a street-smart detective. Okamoto Kido best -know work inaugurated the historical detective genre in Japan. The selection of fourteen stories provides a fascinating glimpse of life in feudal Edo and rare insight into the development of the fledging Japanese crime novel.
Special Event: January 3rd or 5th – IKURU (Film) directed and co-written by Akira Kurosawa
-DVD film–  IKURU, directed and co-written by Akira Kurosawa
Partly inspired by Leo Tolstoy's '𝑻𝒉𝒆 𝑫𝒆𝒂𝒕𝒉 𝒐𝒇 𝑰𝒗𝒂𝒏 𝑰𝒍𝒚𝒊𝒄𝒉', Ikiru (生きる, "To Live") is a 1952 Japanese drama film directed and co-written by Akira Kurosawa and starring Takashi Shimura. The film examines the struggles of a terminally ill Tokyo bureaucrat named Kanji Watanabe and his final quest for meaning.
February 14 – Mister Timeless Blyth: By Alan Spence
Biographical novel set in Japan Looks at R.H. Blyth, an English poet, and scholar who helped to bring haiku to the Western world. Blyth was interned in Kobe during WWII. During which he wrote his first book "Zen in English Literature and Oriental Classics. Later served as a tutor to the young Akihito before he became Emperor of Japan.  Spence Created a fascinating autobiography convincingly in Blyth's own voice. In it, he has conveyed the Haiku scholar's love of music, eastern and Western literature, Zen Buddhism, and sly contradictions Blyth profound understanding of haiku and the self-deprecating constellation of characters who influenced Blyth on what he considered his own karmic path, giving us an entirely new perspective on his life.
March 13 – After The Quake: By Haruki Murakami
Set at the time of the catastrophic 1995 Kobe earthquake, the mesmerizing stories after the quake are as haunting as dreams and as potent as oracles.
An electronic salesman who has been deserted by his wife agrees to deliver an enigmatic package and is rewarded with a glimpse of his true nature. A man who views himself as the son of God pursues a stranger who may be his human father. A mild-mannered collection agent receives a visit from a giant talking frog who enlists his help in saving Tokyo from destruction. The six stories in this collection come from the deep and mysterious place where the human meets the inhuman- and are further proof that Murakami is one of the most visionary writers at work today.
April 10 – The Japanese Art of Shirin Yoku Forest Bathing: By Yoshifumi Miyazaki
 Forest bathing a Japanese practice of seeking a deep and meditative connection with nature – is where nature meets the science of wellness. How to get the most out of walks and shares simple ways to bring the forest into the home.
May 8 – Tokyo Vice: By Jake Adelstein
A riveting true-life tale of newspaper noir and Japanese organized crime from an American investigative journalist who "pulls the curtain back on … [an] element of Japanese society that few Westerners ever see" (San Francisco Examiner).
Jake Adelstein is the only American journalist ever to have been admitted to the insular Tokyo Metropolitan Police Press Club, where for twelve years, he covered the dark side of Japan: extortion, murder, human trafficking, fiscal corruption, and of course, the yakuza. But when his final scoop exposed a scandal that reverberated all the way from the neon-soaked streets of Tokyo to the polished Halls of the FBI and resulted in a death threat for him and his family, Adelstein decided to step down. Then, he fought back.
In Tokyo Vice, he delivers an unprecedented look at Japanese culture and a searing memoir about his rise from cub reporter to a seasoned journalist with a price on his head.
June 12 – The Widow, The Priest, and The Octopus Hunter- By Amy Chavez
Discovering a lost way of life on a secluded Japanese Island. Inspired by the mysterious life of the war widow from whom she rented a house, Amy set out to gather her neighbors'' stories spanning the last hundred years of Japanese history.
All meetings will be held on the second Wednesday of each month at 12 pm at the museum.