Guest Artist Workshops
Program Description

The program is for students in grades 3rd to 12th.
Campers will learn to play traditional Japanese instruments from professional musicians, experience Japanese culture, and participate in fun craft activities. Shirley Kazuyo Muramoto, Koto instructor will lead the basic koto workshops, teaching the students how to use tsume (finger picks), how to read Japanese musical notation and how to execute basic koto performance techniques through simple compositions. Members of the local Fushu Daiko Taiko group will teach the basics of traditional Japanese drumming.
About Morikami's Japanese Traditional Music Program

The Japanese Traditional Music Program was established in 2017 with initial and ongoing funding provided by Toshiba International Foundation. There are two components to the yearly summer program: a) summer youth camp: for elementary, middle, and high school students from Grades 3 through 12; b) summer weekend workshops.
Students participating in the youth camp have various experiences learning about Japan and Japanese culture.  The main focus is hands-on individual and group lessons on the Japanese 13-string zither, the koto. In addition, group lessons are offered on the Japanese taiko drums. Students will also have the opportunity to learn about Japanese culture, history, and cultural arts through hands-on activities, presentations, and tours of the Morikami galleries and gardens.
The weekend workshops focus on youth and adult beginner levels on the 13-string koto.
The program staff includes Shirley Kazuyo Muramoto, Koto instructor, members of Fushu Daiko Taiko group, Morikami staff, and guest instructors on Japanese cultural arts.
Overview of TIFO Grant Music Program Results:
2017, 2018, 2019, 2020, 2021, 2022, 2023
---
2023-2024 Schedule
Details
Times
1-Week Session: 9:00 am – 4:00 pm
Dates
Price
Ages
Location
Throughout the Morikami Museum & Gardens
Materials
Instruments and sheet music will be provided for participants to use in the class.
---
---
Meet Your Instructors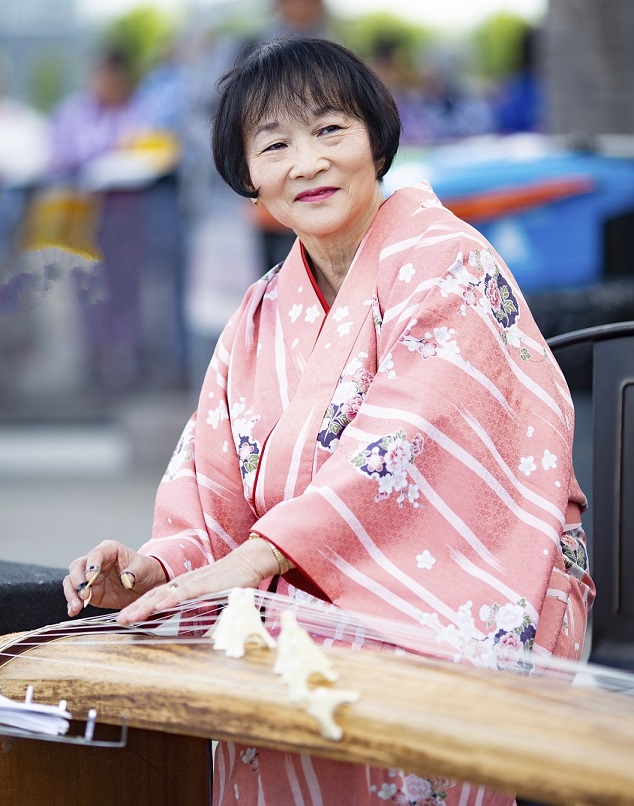 Shirley Kazuyo Muramoto
Koto Instructor
Shirley Kazuyo Muramoto is a teacher and performer of the Japanese koto. Shirley received her Shihan with honors and DaiShihan master koto credentials from the Chikushi Kai in Fukuoka, Japan. She has expanded the repertoire of traditional koto music through her jazz fusion group, the Murasaki Ensemble, collaborating, arranging, and composing music for the koto in various styles and genres. Shirley has performed across the U.S., Canada, and Japan. She has collaborated with many artists and performed with amazing musicians and celebrity notables for over 60 years.  Shirley researched Japanese traditional performance arts in the World War II concentration camps, inspired by her mother's experience learning to play the koto from koto teachers at Topaz and Tule Lake camps.  In 2012, her project was awarded a National Park Service, Japanese American Confinement Sites grant to turn her decades-long research into a documentary film.  Hidden Legacy: Japanese Traditional Performance Arts in the World War II Internment Camps premiered in 2014 and aired on public TV and PBS stations in the U.S. and universities here and in Japan. She has continued to perform and teach, and in 2021 curated a program of Japanese koto music with the San Francisco Symphony for their virtual CURRENTS series, conceived by the late Oakland Symphony conductor, Michael Moore.
Shirley taught koto classes at Montclair Elementary, Glenview Elementary, and Japanese school in Oakland, CA, as well as Westlake Middle School in Berkeley, CA, and UC Berkeley for Prof. Bonnie Wade's ethnomusicology courses.
Fushu Daiko Taiko group
Taiko Instructors
Top performers from South Florida's Fushu Daiko will conduct the workshop. The group is recognized by Seiichi Tanaka, the master of San Francisco Taiko Dojo, who brought taiko to the United States and who trained senior members of the Fushu Daiko group.