Ink Painting | Beginner & Intermediate
Friday Sessions
Sumi-e is a form of Japanese ink painting brought from China in the 12th century. Primarily done in black ink, the name literally means "charcoal drawing" in Japanese. Students grind their own ink using an ink stick and a grinding stone and learn to hold and utilize brushes to create the primary sumi-e brushstrokes. Floral and landscape classes will start with a review of the basic techniques before moving on to the main subject. Beginners welcome!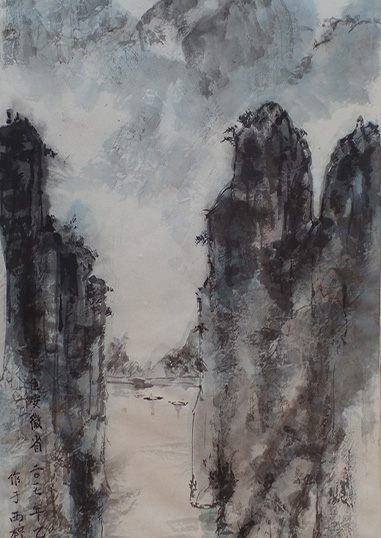 2023-2024 Schedule
Days: Fridays, 4-week sessions and 3-week sessions
Time: 1:30pm – 3:30pm
---
Dates
2023
Session 1: October 6, 13, 20, 27
Session 2: November 3, 10, 17 (3 week)
Session 3: December 1, 8, 15 (3 week)
2024
Session 4: January 5, 12, 19, 26
Session 5: February 2, 9, 16, 23
Session 6: March 1, 8, 22, 29
Session 7: April 5, 12, 19, 26
Session 8: May 3, 10, 17, 24
Session 9: June 7, 14, 21, 28
---
Class Details
Price
4-week Session: $70 ($65 members)
3-week Session: $52.50 ($48.75 members)
Note: Class sessions run 3 or 4-weeks and are purchased as a "session only," not individual classes.
Prerequisite
Material Fee
Location
Materials Needed
Medium/hard idea brush
Orchid Large Bamboo or Large Flow Brush
Liquid Ink (sumi)
Small soy sauce dish
Pi paper  (approx. 27″ x 18″)
Felt (approx. 3′ square)
Water container to wash brushes
Xuan cooked rice paper (optional)
Printable Sumi-e Materials List with Pictures   Examples of materials on Amazon
Materials can be purchased online and at local art stores such as below.  Some materials are available for purchase from the instructor as well.
Amazon
Dick Blick's Art Supply
Hobby Lobby
Jerry's Artarama
Michael's Art Store
*Felt is to be used under your paper and can be purchased at a variety of art, craft, or fabric supply stores.
If you have any questions about class supplies please ask your instructor on the first day of class before purchasing them.
---
Meet Your Instructor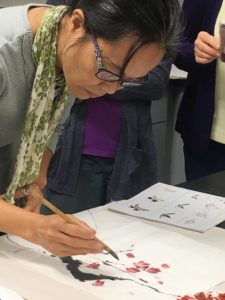 Instructor Ying Zhou is a Chinese brush painting and Japanese sumi-e artist. She has been successful in teaching and developing the skills of a broad spectrum of students ranging from beginner to advanced levels. Ying has lectured and demonstrated her artistries in many different regions. She also enjoys brush-making and pottery. yingzart.etsy.com