Adult 2-Day Workshop
Katazome is a Japanese resist process used for hundreds of years in Japanese textiles. Traditional artisans created a resist paste made from a rice flour mixture and applied it to cloth through the use of elaborately hand-carved stencils. Where ever this paste is applied will resist the dye, creating a pattern. Traditionally katazome is dyed with indigo to create the traditional white and blue of many Japanese textiles.
During this 2-day workshop, students will learn the basics of katazome, the preparation of the fabric and resist paste, the making of stencils, the application of the paste onto fabric, and the dyeing of the fabric in a natural indigo vat. Along with having access to vintage stencils from Japan, students will also learn contemporary non-traditional methods that one can use at home.
2022-2023 Schedule
Details
Date
Saturday, September 23 and Sunday, September 24, 2023
Time
Price
Material Fee
$50 (cash payable to the instructor)
Location
Please Bring:
Rubber gloves (long ones like the ones used for dishwashing)
Apron/smock or wear clothes you don't mind getting dirty
Plastic bag to take wet items home (a one-gallon Ziploc would be good)


---
Meet Your Instructor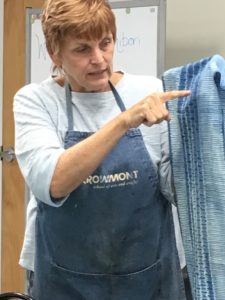 Formerly an interior designer and then Fine Art Gallery Director, Suzanne Connors has always loved art and textiles. Suzanne has maintained an active fiber art studio since 2008. Her academic background in architecture and design lays the groundwork for her practice using traditional shibori techniques. Creating a body of detail design, establishing order, combining simple techniques, textures and using design repetition are foundations of her work. Suzanne enjoys sharing her passion for texture, color, and pattern through her artwork and workshops. She lives in Stuart, Florida surrounded by her family, and is the founder of the Aya Fiber Studio.