Sponsored by Toshiba International Foundation
Date: Sunday, June 25, 2023
Times: 12:00 pm and 2:30 pm
Location: Morikami Theater
Price: $10 (with paid museum admission) | $5 Members
Join us in celebrating the Morikami's 46th anniversary with a special performance by Japanese classical dancer, Satomi Hirano. Take a journey with us to the world of Japanese classical dance and this elegant cultural art form. Be mesmerized by the graceful movements of each dance with musical accompaniment by Mrs. Shirley Kazuyo Muramoto on the koto, a traditional Japanese instrument.
Satomi Hirano is a Japanese classical dancer and instructor residing in Orlando, Florida. She began her dance instruction in Tokyo at the age of four. She studied under Master Kichifuji Wakayagi and the late Kisaho Wakayagi. At the age of 16, she received the title Master Fujichiho Wakayagi. She danced "Sagi Musume" for her inauguration, and began her career as a master classical dance teacher in Sasaduka, Tokyo. Following a move to the US, she resumed teaching in Orlando, Florida. Her specialty – Wakayagi-Ryu – is one of the five main classifications of Japanese dance styles. Through her mastery of classical Japanese dance (nihon buyō), coupled with her certification in Yamano-style kimono dressing, she is dedicated to reviving and spreading traditional Japanese culture. She has performed at various venues, including the Morikami Museum. 
---
---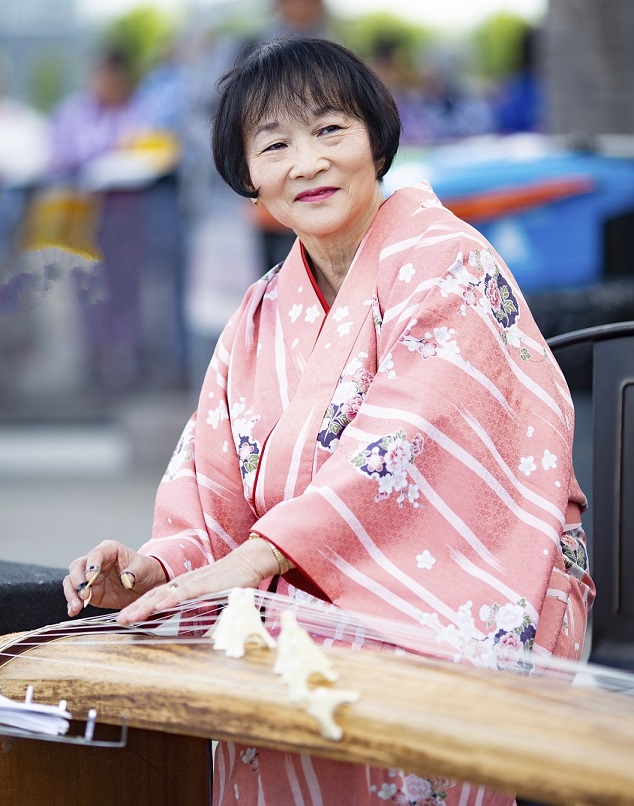 Shirley Kazuyo Muramoto is a teacher and performer of the Japanese koto. Shirley received her Shihan with honors and DaiShihan master koto credentials from the Chikushi Kai in Fukuoka, Japan. She has expanded the repertoire of traditional koto music through her jazz fusion group, the Murasaki Ensemble, collaborating, arranging, and composing music for the koto in various styles and genres. Shirley has performed across the U.S., Canada, and Japan. She has collaborated with many artists and performed with amazing musicians and celebrity notables for over 60 years.  Shirley researched Japanese traditional performance arts in the World War II concentration camps, inspired by her mother's experience learning to play the koto from koto teachers at Topaz and Tule Lake camps.  In 2012, her project was awarded a National Park Service, Japanese American Confinement Sites grant to turn her decades-long research into a documentary film.  Hidden Legacy: Japanese Traditional Performance Arts in the World War II Internment Camps premiered in 2014 and aired on public TV and PBS stations in the U.S. and universities here and in Japan. She has continued to perform and teach, and in 2021 curated a program of Japanese koto music with the San Francisco Symphony for their virtual CURRENTS series, conceived by the late Oakland Symphony conductor, Michael Moore.
Shirley taught koto classes at Montclair Elementary, Glenview Elementary, and Japanese school in Oakland, CA, as well as Westlake Middle School in Berkeley, CA, and UC Berkeley for Prof. Bonnie Wade's ethnomusicology courses.