Guest Artist Youth & Adult Workshops
Sponsored by Batchelor Foundation and Residence Inn Boca Raton by Marriott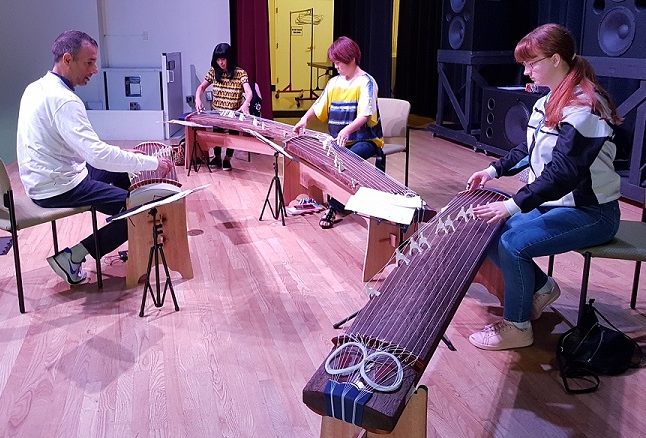 Program Description
An opportunity for adults to take a Japanese traditional music workshop at the Morikami Museum with our professional musician from Japan. Instruments and sheet music will be provided for use in the workshops.
The program is aimed at beginners, those with no or little experience with the koto, a 13-string zither. The intermediate course is for those with experience or who have taken the beginners course and want to go to the next level.
About Morikami's Japanese Traditional Music Program
The Japanese Traditional Music Program was established in 2017 with initial and ongoing funding provided by Toshiba International Foundation. There are two components to the yearly summer program: a) summer youth camp: for elementary, middle, and high school students from Grades 3 through 12; b) summer adult weekend workshops.
Students participating in the youth camp have various experiences learning about Japan and Japanese culture.  The main focus is hands-on individual and group lessons on the Japanese 13-string zither, the koto. In addition, group lessons are offered on the Japanese taiko drums. Students will also have the opportunity to learn about Japanese culture, history, and cultural arts through hands-on activities, presentations, and tours of the Morikami galleries and gardens.
The adult weekend workshops focus on beginner/intermediate levels of the 13-string koto.
The program staff includes Dr. Joseph Amato, Coordinator of the Japanese Traditional Music Program and Koto instructor, members of Fushu Daiko Taiko group, Morikami staff, and guest instructors on Japanese cultural arts.
Overview of 2017 Morikami Music Program Results

Overview of 2018 Morikami Music Program Results
Overview of 2019 Morikami Music Program Results
Overview of 2020 Morikami Music Program Results
Overview of 2021 Morikami Music Program Results
Overview of 2022 Morikami Music Program Results
---
Schedule
Times
Beginner & Intermediate Sessions:

9:00am-12:30pm (10am-10:30am break) (Beginners)
1:30pm – 5:00pm (2:30pm – 3:00pm break) (Intermediate)*
---
Dates
Saturday & Sunday, June 24 and 25, 2023 (2-Day Adult Workshop) 
Price
$200 per session (2-Day Workshop – 6 hours total)
Prerequisite
*Intermediate Session: complete beginner's course or prior experience with the instrument
Location
---
Meet Your Instructors
Dr. Joseph Gashō Amato
Coordinator, Japanese Music Program
Koto Instructor
Joseph Gashō Amato received his Ph.D. in composition in 1998 from New York University with primary studies in Italian contemporary music. In 2000, he was awarded the prestigious Bunka-chō Japanese Government Artists Fellowship to pursue the formal study of Japanese music history and Japanese traditional musical instruments at Seiha Hōgaku-kai. Since then, he continued his studies receiving his teaching license (junshihan) and his professional name Gashō in 2003.
Currently, he is the founder and director of the International Center for Japanese Culture since its inception in 2011. Before ICJC, Dr. Amato founded the Yokohama International School Japanese music program in 2003 and served as its director until 2011.
Pursuing his work on sharing Japanese traditional music and culture on the international level, in 2017 Dr. Amato founded and serves as President of Japanese Culture Promotion and Management an NPO dedicated to supporting Japanese traditional arts and culture. He is the coordinator of the Morikami Museum Japanese summer traditional music program located in Delray Beach, Florida, USA.