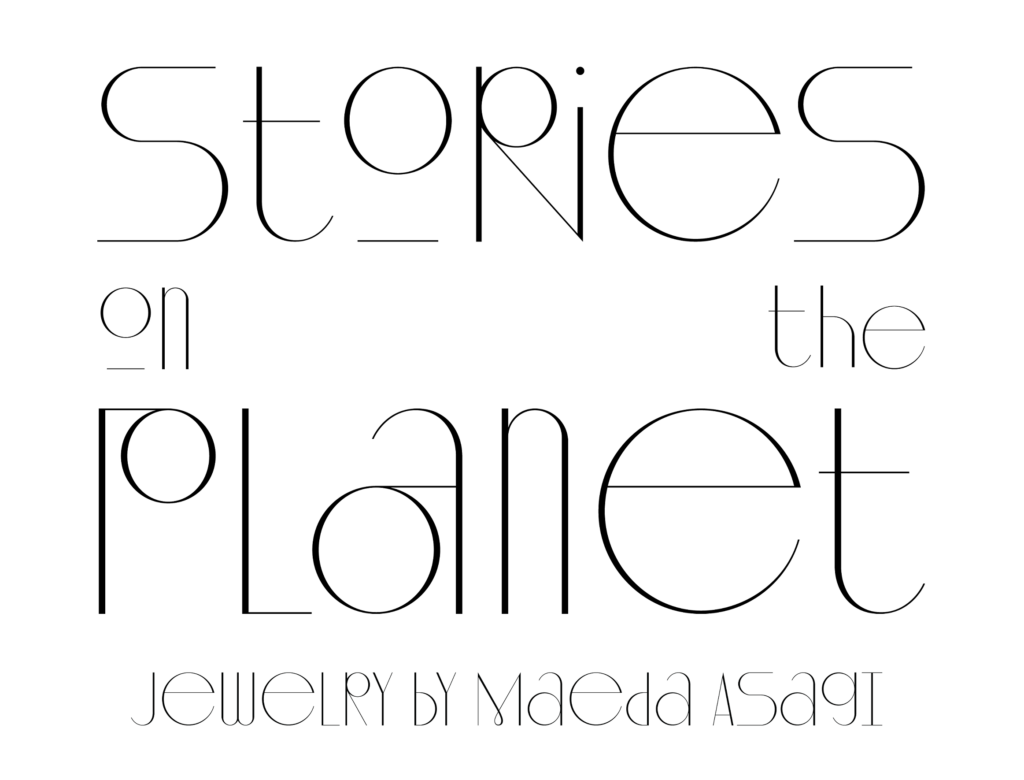 Your Starry Heart Makes My Heart Sparkle – necklace – 2019
---
---
Night in city
Lights in windows
In each window, there are lives.
I'm glad that I met you among a great number of souls.
My heart sparkles when I'm with you.
I see a stage under the starry sky in your heart.
I listen to a light rhythm of music from your heart.
We dance there, excited and laugh outloud.
We dance there, innocent and create something new.
Your starry heart makes my heart sparkle.
-Maeda Asagi
I Wish I Could – necklace – 2021
---
---
During the Covid lockdown at home, I made lists of things I missed and asked others to do the same. From those lists, I made this necklace. The model for the story is a college girl who lives alone, far from her family and boyfriend.  "I wish I could be with my boyfriend. I wish I could go home and spend time with my family. I wish I could see my grandparents. I wish I could take a normal face-to-face class. I wish I could practice cheerleading. I wish I could go shopping…" In the necklace clasp, the same girl is looking out from the balcony and murmuring, "I wish I could."  Each of the white elements in the necklace are scenes, which pop up in her mind like clouds, and are arranged to look as if they are floating.
The wishes may look like illusions now, but they will be reality in the future. Simple ordinary days are like gems that shine inside you. During the pandemic, I realized that what we truly want is the comfort of everyday life. This necklace is about all of our hopes.
-Maeda Asagi
Carousel – bracelet from Amusement Rides series – 2023
---
---
I tried to create a series of jewelry inspired by an amusement park, and last year (2022) I made a water rollercoaster. When I thought about continuing that theme, I felt that the most dreamlike ride in an amusement park would definitely be a carousel. The shape and decorative nature of the carousels are perfect for jewelry. In fact, I wondered why I hadn't made it before.
I thought it would be nice to have a bracelet that moves like a music box with a winding mechanism, but that was obviously impossible. So, I struggled to find a way to make at least the horses move up and down. It was a manual process, but I managed to make the horses move vertically, adding a playful touch.
In terms of the techniques, I made the prototype by wax, cast them and soldered them together. Soldering was quite challenging because the two metals needed to reach the same temperature. It was especially difficult to solder the small horses and people onto the large bracelet parts. Characteristic of a carousel, they are covered in mirrors, so I cut acrylic mirrors and designed the prototypes accordingly. I also individually designed and made the gemstone settings that form a continuous row on the roof. This process alone took several weeks. The entire process of creating the merry-go-round bracelet took four months, and I was delighted when it was finally completed.
I decided to make the clasp resemble a whimsical key. The horse parts and the surrounding fence are very delicate. Especially when fastening the clasp with one hand, be careful not to press on the horse parts, but rather on the floor or the gemstone sections to close it. The horses are delicately made, in order to allow movement. It was challenging, but it was truly an enjoyable creative process. I would be delighted if, by wearing it, admiring it, and tapping into your inner child, the piece could bring a sense of excitement to your heart.
-Maeda Asagi
My Life on the Train – neckpiece – 2023
---
---
This time, I used 18K gold and slightly thicker wires for main characters. Other figures are made in 14K gold. I thought it would show the different colors more, but they looked the same at the end. I used sterling silver for the secondary characters on 4th and 8th cars. Because I tried to express the situation that he fell in love with a girl and couldn't see anyone else but her. On the 8th car, he proposes to her.
-Maeda Asagi
Rowing – necklace and bracelet – 2023
---
---
My grandfather used to cultivate pearls in Ago Bay, Ise Shima. My mother worked in the business of creating necklaces from those pearls. Pearls have always been a part of my life since childhood. When I made the necklace "Splash!" I was inspired by a water rollercoaster, last year. I realized that even with classic pearl necklaces, the material could be transformed into playful and enjoyable jewelry. This led me to want to create more pearl-art jewelry.
If I were to liken a string of pearls to the flow of water, it could also represent a river. And if the string of pearls became a river, I wanted to place a boat on it. If the boat resembled the long boats seen in Olympic competitions, rowing in unison would be interesting and visually stylish, I thought.
The pearls used in this piece are freshwater pearls. Although I haven't confirmed their origin, I sourced them from a Chinese pearl dealer. I have seen various types of freshwater pearls before, but these were unlike any I had seen. They had a dull luster with a textured appearance, reminiscent of compressed aluminum foil, but they possessed a mysterious charm.
I decided to give it a fashionable touch! The river is long, like a necktie, extending to around the belly button. It's a piece of jewelry that can be worn with dresses or jeans, yet if you look closely, you'll see tiny people competing in the boats, rowing, and the winner proudly holding up a medal… I thought it'd be interesting. No one has made something like this, only me.
I chose to connect the pearls using a technique called "all knots," where each pearl is individually tied. I made many connection points to ensure that the strands would not come apart. As the pearls had varying sizes, it took me two full days to measure each pearl and arrange them perfectly to match the connection points. It then took another two days to process them into a necklace. As I couldn't connect the pearls with all knots, my skilled mother helped me with the task. The small pearls at the very front, resembling a tie, are Akoya pearls.
-Maeda Asagi
Splash! – neckpiece from Amusement Rides series – 2022
---
---
It's a water rollercoaster. The clasp has the entrance and the exit. People come from the entrance and ride on the coaster, which goes slow behind the neck and it comes down fast with a splash! The coaster goes to the terminal, which is the clasp part. People get off one by one and walk to the exit. That's the story of this necklace.
I expressed the splash by using a very unique, rare baroque pearl with tails. Because my grandfather cultivated pearls, I had a chance to see many interesting pearls when I was a kid. I wanted to make something with pearl necklaces for an 'old meets new' exhibition. It's very classic and gorgeous, but very unique and arty at the same time. I have confidence that I am the only person who has thought of this.
 My mother made the pearl necklace. Because it needs great skill to make such beautifully arranged pearl necklaces, it's very difficult. So this is a mix of m and my mother' s work. I like that part, too.
 Akoya pearls are the pearls from the Japan Sea. Because they are from a smaller oyster, the pearls are smaller than South Sea pearls. The blue gray color is natural, not dyed. Nine mm. is the biggest size of Akoya pearls. I used 9 mm., 8.5 mm., 8 mm., and 5.5 mm. I tried to express the waves with the size of the pearls.
 >Now the sea is polluted and they can't grow pearls in the sea for a long time. They grow 1-2 years only. Oyster can't live longer than that because of global warming. The temperature is too high. When my mother was a kid, her father grew pearls 5-6 years in the sea. So the pearl got lots of layers and became thick and shiny, but they also became baroque (irregularly shaped). Not any more. Baroque pearls with big tails are now rare. I have enough pearls to be able to make one more necklace. You can make an order.
-Maeda Asagi