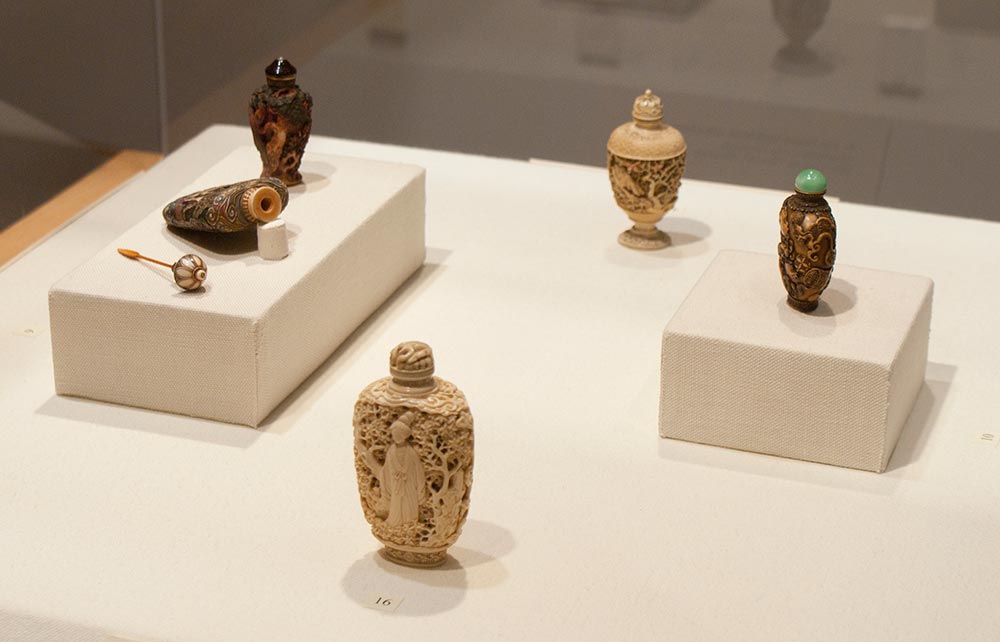 October 18 – January 22, 2012
From the Trammell and Margaret Crow Collection of Asian Art
Tobacco was introduced to China from Europe in the 16th century. Its use as snuff, tobacco ground to a powdered form and fragranced with essential oils, began only after the establishment of the Qing Dynasty (1644 – 1912). At that time, smoking tobacco was forbidden but, paradoxically, the use of snuff was acceptable because it was valued for its medicinal qualities as a remedy for colds, headaches, and stomach disorders.
In the 1860s Japanese craftsmen began producing snuff bottles for export, not to China, but to the West, in response to the Western craze for exotic Chinese and Japanese artifacts. Decorated with traditional Chinese motifs, the snuff bottles the Japanese made were modeled after the Chinese originals that greatly appealed to collectors of the time.
The Japanese snuff bottles featured in this exhibition exemplify the superb technical virtuosity and artistic sensibility of late 19th- and early 20th-century Japanese craftsmen. Made during the Meiji Period (1868 – 1912), these intricately designed bottles were crafted for the markets that flourished in China and the West in response to their fascination with snuffing and its burgeoning popularity.
Small Wonders was organized in part by the Trammell and Margaret Crow Collection of Asian Art in Dallas, Texas, and made possible by the generous support of The International Chinese Snuff Bottle Society.