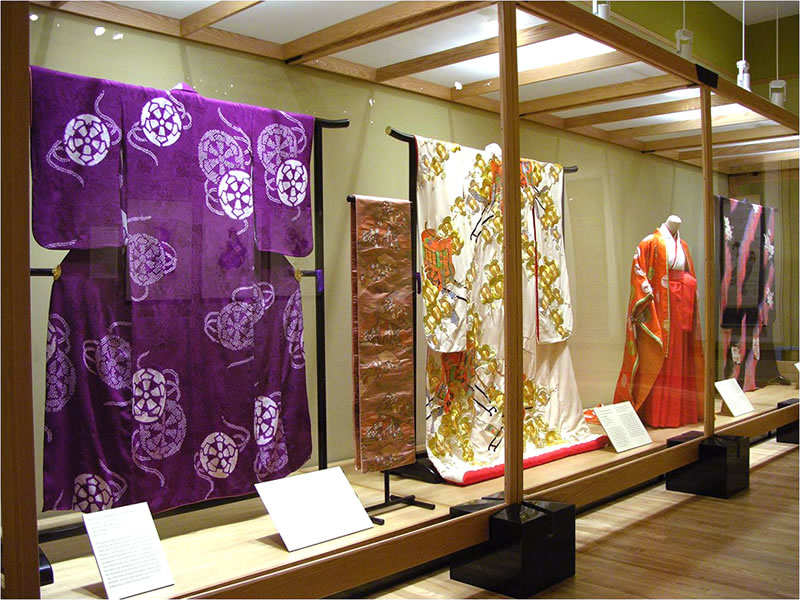 Tuesday, March 8 – Sunday, June 5, 2011
The kimono, the national costume of Japan, is a symbol of feminine beauty, artistic refinement, and cultural identity. Kimono: Art, Fashion, and Society explores the multifaceted and meaningful aspects of the kimono as a work of art, a statement of fashion – public marker of manners and class distinction – and its place in society as an emblem of nationalism and cultural homogeneity.
Presented in this exhibition are an array of kimono and fashionable accoutrements made for young girls, unmarried women, brides, and married women. The garments are displayed alongside various woodblock prints and paintings reflecting a broad range of kimono fashions and time periods.
Kimono: Art, Fashion and Society was organized from the collection of the Morikami Museum, and is funded in part by the Henri and Tomoye Takahashi Charitable Foundation, Champion Solutions Group, and the Mary Livingston Griggs and Mary Griggs Burke Foundation.
Related Films & Publications
In order to better understand and appreciate this exhibit, our curator recommends:
The Kimono Inspiration: Art and Art-to-Wear in America
By: The Textile Museum, Washington, D.C.
Explores the use and meaning of the kimono in America.
Kimono: Fashioning Culture
Author: Liza Crihfield Dalby
Publisher: University of Washington Press (October 2001)
ISBN-10: 0295981555, ISBN-13: 978-0295981550
 [divider_flat]
Memoirs of a Geisha (2005)
Director: Rob Marshall
Writers: Robin Swicord (screenplay), Arthur Golden (book)
Stars: Ziyi Zhang, Ken Watanabe and Michelle Yeoh