BEYOND THE WALL
Visions of the Asian Experience in America
May 7, 2022 – September 25, 2022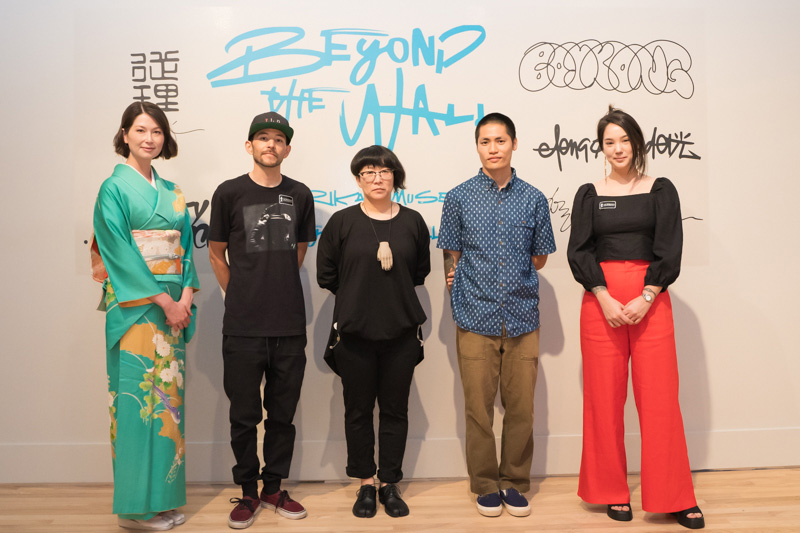 The United States is a nation comprised of immigrants who arrived with dreams of finding a better life for themselves and their families. For centuries, distinct ethnic customs introduced by these immigrants intermingled, creating unique urban and rural enclaves around the country. These cultural spheres are constantly evolving as new immigrants arrive and subsequent generations are born, inheriting the traditions, language, and customs from the countries left behind while absorbing those of their adopted home. Asian immigrants have played an integral role in building this nation in all facets of life, including agriculture, business, medicine, technology, and the arts. Yet, these communities are often still viewed through a lens of stereotype, cliché, and myth. 
Beyond the Wall features the work of five dynamic contemporary artists of Japanese and Asian American descent who explore their cultural heritage and individual identities through the powerful, large-scale medium of the mural. The artists' integration of Eastern aesthetics or concepts into a Western world construct reveals a greatly expanded identity narrative. In this compelling exhibition, we discover their unique story and voice.
Organized by the Morikami Museum and Japanese Gardens. Funded in part by the JM Family Enterprises Inc. and the Henri and Tomoye Takahashi Charitable Foundation.
Meet the Artists
Boy Kong
Boy Kong (b. 1993) is a self-taught multi-media artist of Chinese and Vietnamese heritage who was raised in Orlando, Florida. His growing body of work draws inspiration from a vast array of sources from folk art to graffiti and surrealism to ukiyo-e (Japanese "Pictures of the Floating World") and employs a multitude of media, including paint, collage, assemblage, sculpture, and mural art on both a small and large scale.
Boy's exploration of variety and color are boundless, in both theory and practice. The artist will frequently conflate and blur the lines between animal, mineral, and vegetable, electrifying his subjects with a combination of pastels and neons. Boy's work has been exhibited in a number of solo and group shows throughout the United States and is included in museum and private collections. He has commissioned original work for the Audubon Mural Project, the University of Central Florida, Google, Nike, Uniqlo, WeWork, and Heineken, among others.
Casey Kawaguchi
Casey Kawaguchi (b. 1983) is a Japanese American artist born and raised in Utah, and currently based in Denver, Colorado. Kawaguchi's creative expression was born in graffiti, where his dedication to precision met the chaos of the spray-can. On a lifelong pursuit of mastery, Kawaguchi's artistic practice revolves around a recurring character that reflects his identity as an Asian American artist, while representing the power of the creativity that he feels resides within each of us.
Drawn from his earliest inspirations of comic books, illustration, and his Japanese heritage, his work conveys simplicity and balance, where the contemporary meets tradition in a powerful display. Kawaguchi's work has been exhibited across the United States and his unique artistic practice was captured over the course of two years in the documentary, "Mastery", by filmmaker David Kaufman.
MASTERY Part II | Casey Kawaguchi from David Kaufman on Vimeo.

Elena Øhlander
Elena Øhlander (b.1988) is a mixed-media visual artist based in Jacksonville, Florida. She obtained her BFA in Photography from the Art Institute of Jacksonville in 2014 and is actively pursuing her MFA in Painting + Drawing from the University of Florida.
Through the format of murals and illustrations, Øhlander explores identity, individuality, gender issues, and social justice. She utilizes a contrived scenario, characterization of her own likeness, intentional use of symbolism, and the psychology of color to build her vernacular. Her emphasis on hyphenated American identity is used as a comparative lens that focuses on Asian diaspora awareness and unification to society at large – investigating issues surrounding cultural preservation and historical memory.
Hiromi Mizugai Moneyhun
Hiromi Mizugai Moneyhun (b. 1977) was born and raised in Kyoto, Japan, and moved to Jacksonville, Florida in 2004. Moneyhun began drawing at a young age and, with no formal training, developed a unique artistic voice that combines traditional Japanese art forms, such as kirigami (cut paper), with a hyper-modernity that has become synonymous with Japan's contemporary urban aesthetic movements.
Moneyhun's three-dimensional cut paper creations emerge through a painstakingly detailed and multistep process. These sculptural forms are alive with a sense of movement and infused with the artist's lighthearted humor. Moneyhun's work has been exhibited in numerous group and solo shows in New York City, London, and throughout Florida. In 2014, her work was chosen by the Crystal Bridges Museum of American Art to be included in the groundbreaking show State of the Art: Discovering Art Now.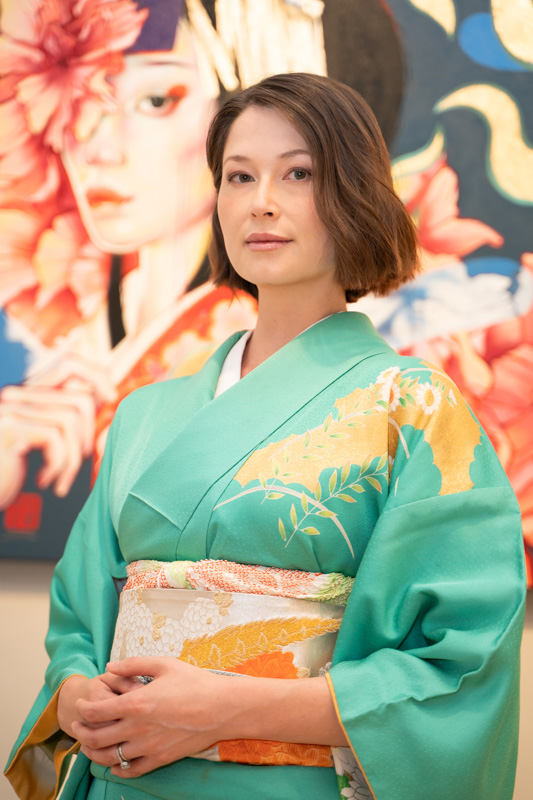 JUURI
JUURI (b. 1983) is a Tokyo-born Japanese American artist currently working from Oklahoma City, Oklahoma.
Her colorful figure-driven work is inspired by traditional Japanese art, such as bijin-ga (images of beautiful women) and yakusha-e (images of kabuki actors) and interpreted through the stylistic lens of modern fashion photography.  Japanese history, folklore, and kabuki theater are also recurring themes in the artist's murals and other visual art.
Juuri's work has been integrated into urban renewal initiatives in the United States and overseas and can be found in many important private collections.
In Case You Missed It…
Watch the Artist Symposium, a discussion with the artists from the Beyond the Wall Exhibit. Moderated by Dr. Mitzi Carter.