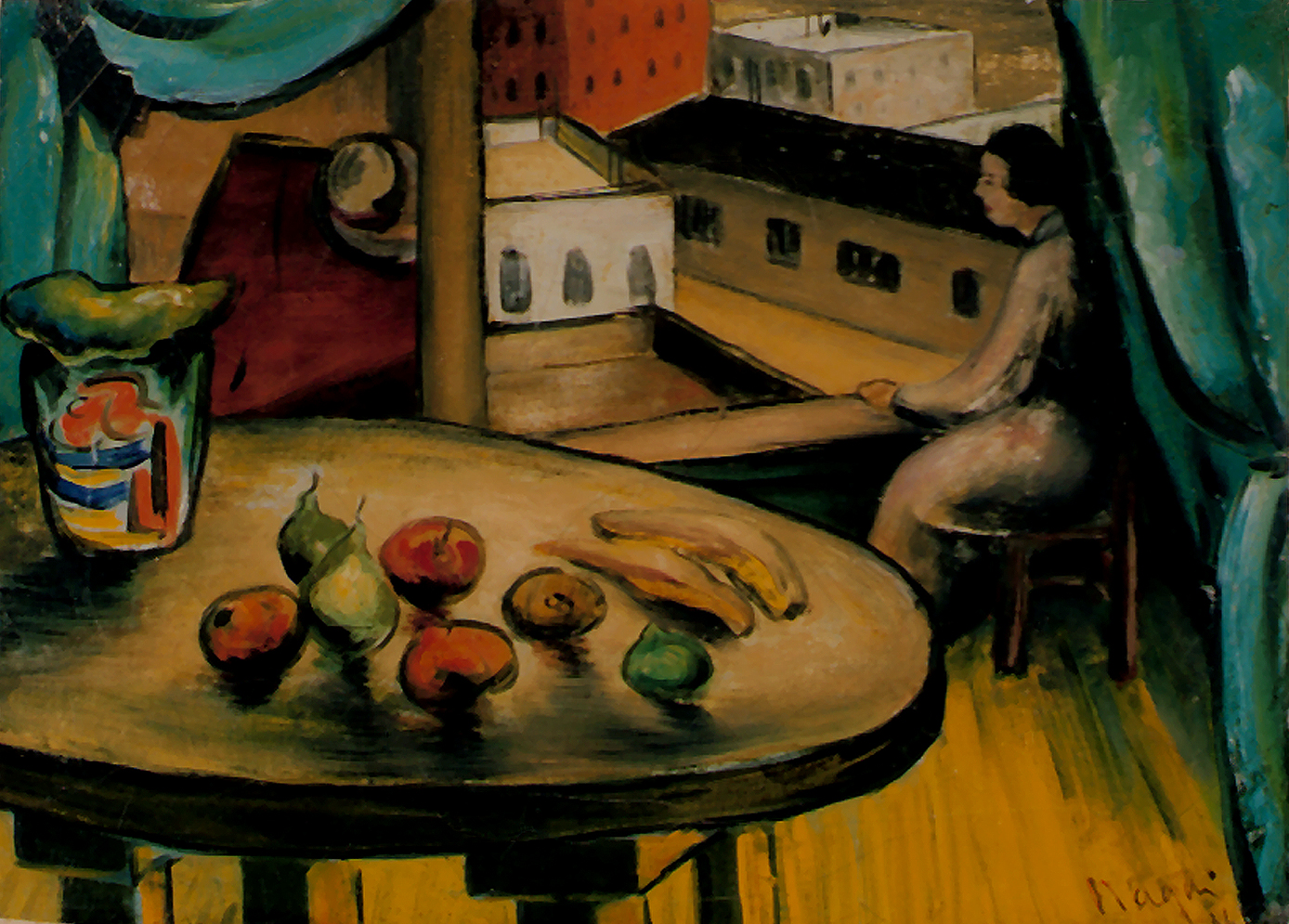 January 28 – March 16, 2003
The Morikami Museum hosts, The Paintings of Thomas Nagai, an exhibition of extant works by Thomas Nagai (1886 – 1966), a prolific painter who achieved great acclaim in American art circles during the 1930s with compelling landscapes and portraits of modern American society. His works, after nearly 50 years of obscurity, reemerged in 1995 at an exhibition at the Teien Museum, followed by the Daichi Museum in 1996, both in Tokyo. More recently, Nagai's paintings have been exhibited by The Gloucester Art Museum in Massachusetts and at the Gunma Museum in Japan. The works presented here represent Thomas Nagai's most productive period of creativity, the late 1920s and throughout the 1930s.
Thomas was born Tomizo Nagai on February 2, 1886, in a village in Gunma Prefecture (north of Tokyo) to a family with a distinguished artistic and literary heritage. His grandfather, Ryosuke Nagai, had been a professional painter in the traditional Japanese manner, while his uncle had been a scholar of Chinese literature who probably also dabbled in monochrome ink paintings. As a youth, Nagai trained as a Japanese-style painter and learned the methods of fluid brushwork that he would eventually modify in America for the very different paint mediums of oil, watercolor, and gouache. In 1906, at the age of 21, Nagai ventured to the United States to study oil painting. He settled in New York City where he developed a distinctive style, producing an impressive body of edgy, slightly surreal works. 
The Art Students' League
From 1924 to 1927 Tomizu Nagai, who had anglicized his given name to Thomas, was a student at the prestigious Art Students' League of New York, founded in 1875. Nagai trained under the Regionalist painter, Thomas Hart Benton (1889 – 1975) and alongside such notable American artists as Mark Rothko, Milton Avery, and Adolph Gottlieb. Benton's sinuous outlines, burly sculptural figures, rich color, and forceful portrayals of the working class in rural America had a profound influence on Nagai. The elements of Social Realism present in Nagai's work can also be traced to Benton's own aesthetic principles and concerns. The Missouri-born Benton reacted against the European aesthetic that he felt continued to dominate American culture by portraying the gritty realism of the working class and rural farmers who found it difficult to get ahead despite the advancements of the Industrial Revolution. Benton held that the culture and images of the American South and Midwest should be a principle source of American art. While Nagai did not travel in these areas as Benton had, he also focused on the American landscape and its inhabitants as he experienced them. Benton once wrote of his student's art, "[Nagai's] compositions are full of unexpected turns, but have an internal logic of their own well worth studying."  Nagai was a versatile artist who worked in a variety of media.  A painter in oils and gouache, he also worked in watercolor, pen and ink, lithography and etchings.  Despite his indebtedness to Benton, Nagai was an artist of exceptional originality who brought together elements of both traditional Japanese and American approaches to painting in a way that had not been done previously.
Contemporary observers of the art scene during the 1930s saw in Nagai's work a compelling combination of the subtleness of traditional Japanese aesthetics commingled with the boldness of contemporary American art.  Benton noted that Nagai "is one of those few artists in whom the East and West have met successfully." M.M.S, writing in Parnassus Art News agreed: "He [Mr. Nagai] was trained before coming to the West in Japanese brush technique and in spite of the present use of occidental subject and medium, this skill is evident in varying degrees in all of his pictures
Many extant works portray the community of Gloucester and Cape Ann in Massachusetts where Nagai and his wife often spent their summers in the company of fellow artists Milton Avery and Gershon Benjamin (see image below). The three artists lived in The Lincoln Building in New York City (current site of the Lincoln Center), and not only painted portraits of each other and of members of each other's families, but also shared models and often worked side-by-side painting seascapes of Gloucester Harbor. They critiqued each other's works and although they certainly influenced one another, they each developed their own distinct style of painting.
While the treatment of his subject matter certainly shares Benton's narrative interests and empathy for the lives of ordinary people, Nagai's compositions also share a stylistic affinity with works made by various avant-garde 19th and 20th-century European artists, most notably Edward Degas, Paul Cezanne, Vincent van Gogh, and Pablo Picasso, whose influence was indispensible to the formation of modern American art. Nagai, unlike Benton, did not reject the tenets of European aesthetics, but rather embraced aspects of Impressionism, Cubism, and Surrealism and combined them with attributes of Regionalism that he had learned at the Art Students' League.
At the Art Students' League Nagai also became acquainted with Yasuo Kuniyoshi (1893 – 1953), one of the most renowned Japanese expatriate artists to settle in America. Kuniyoshi, also from Gunma Prefecture, first studied, and then in 1933 began teaching at the Art Students' League, where he acted as mentor to many aspiring Japanese artists living in New York City. Like Benton, much of Kuniyoshi's work is infused with a Social Realist disposition yet glossed with elements of whimsical expression and tinges of Cubism as well. Kuniyoshi's expressive brushstrokes, rich colors and fragmented compositions, may have influenced Nagai's palette. The method of collapsing the composition into different sections by intersecting random angles into the space to diminish a coherent sense of depth, a hallmark seen in the work of both artists, was likely influenced from Nagai's early training in Japan.
Exhibitions
Following the successful debut of his painting Picnic at New York's Anderson Gallery in 1929, Nagai exhibited widely over the next decade, garnering several awards. In addition to the Anderson Gallery his work also appeared at the American Contemporary Artists Gallery, LaSalle Gallery, Roerich Museum, Whitney Museum of American Art, Brooklyn Museum of Art, Art Institute of Chicago, and Pennsylvania Academy of the Fine Arts.
Another gallery that featured Nagai's paintings was the Uptown, which also bestowed upon him its Poet-Artist Award for the excellence of his gouaches. An early preference for oil paint as a medium soon gave way to the opaque watercolor form of gouache, a pigment similar to watercolor but heavier and denser in texture. Unlike the irregular, transparent finish of watercolor, the opaque medium imbued Nagai's paintings with a smooth, satiny appearance. Nagai's offerings at the 1934 International Watercolor Show prompted critic Richard Gray of the magazine, Art Today, to write, "Technically we have never seen gouaches more effectively handled. …But more important is Nagai's ability to take the obvious and transpose it into the poetical without loss of identity. …With his cool greens and moody blues he reaches a sublimity of expression which soothes and rejuvenates our flagging spirits." Echoing the Uptown Gallery award, Gray called Nagai "essentially a poet-painter."
Art and The Great Depression
In 1935, Nagai joined Kuniyoshi and other Japanese expatriate painters for a showing titled "Japanese Painters in America" at the American Contemporary Artists (ACA) Gallery. Kuniyoshi was one of the founding members of this avant-garde institution established in 1932 to afford young American artists greater opportunity for public exposure at a time when most New York galleries focused on the artistic currents of Europe. Social Realism or 'art with a message' found a venue at the ACA. As the ability to earn a living through art became increasingly difficult during the Depression years, the ACA organized the earliest meeting of the American Artists' Congress to demand the right to work. The gallery's activism was responsible in part for such programs as the Federal Arts Project (FAP) and the Work Project Administration (WPA), which gave artists a minimum wage for working as muralists, sculptors, and painters. Between 1935 and 1937, Nagai was a beneficiary of these projects, finding work with the WPA. Around the same time Nagai met and married, Paula Rosen. Paula, who came from an orthodox Jewish family, was also a WPA artist as well as a jewelry designer. Nagai's work with the government agency ended abruptly in 1937 when Congress enacted legislation that forbade employment to foreign nationals on projects administered by the WPA.
Not only did the WPA prohibit Nagai from working on projects, the United States government also repeatedly denied him citizenship. In a letter he wrote to the government he stated:
As a Japanese by birth, tho of over twenty years legal residence in New York City, my failure to obtain United States citizenship is one of absolute and complete legal inability to do so, thru the laws of the United States – not thru any neglect, choice or desire on my part. I would have always done so gladly had I the opportunity.
Finally, after the passage of the Immigration and Nationality Act of 1952 making Japanese nationals residing in the United States eligible for naturalization, he became a citizen. Nagai, who believed in social and political institutions of the United States, proudly reported to relatives in Japan on his experience of voting for the first time as an American citizen. He never returned to Japan, even for short visits, but remained in the U.S. for the rest of his life. In time he and his wife, Paula, retired to Florida. Nagai lived his last years in DeBary, Volusia County, where he died at age 80 on June 19, 1966. When Nagai's cousin, Nobuko Nagai, her daughter Fumie Nagai and granddaughter Mizuki Nagai attended the exhibition at The Morikami in 2003, they traveled to the St. John's River in DeBary to pay their respects to Thomas and Paula's memory.
[box]1) Still Life – Bowl of Fruit
oil on canvas
50 x 40 cm
1936
Collection of Mr. and Mrs. Robert F. Jacobs
Strong outlining and warm, saturated tones convey a quiet, wistful mood tinged with melancholy that distinguish this work from Nagai's expressive watercolors and gouaches. The red table, bright orange cloth, and vibrant colored fruit, illuminated by the sun filtering through a seemingly overcast sky, draw the viewer's attention to the center of the composition, where a strong diagonal line indicates the ledge of the window sill and directs the viewer to the pastoral scene beyond. A single green pear is silently poised on the edge of the table.
The terse compression of forms and collapsing of space merging the foreground with the background, eliminating the middle ground all together, pays homage to the still lifes of Paul Cezanne (1839 – 1906), Post-Impressionist painter and forerunner to Cubism. With its warm, rich, saturated hues, Nagai has also employed Cezanne's method to create a Still Life that is at once decorative in design, painted with thick, flat surfaces, and weighty in appearance.
The composition also suggests a nod to the aesthetics of the Kanō school painters who dominated officially sanctioned art in Japan from the 16th to the 19th centuries. Kanō landscapes typically featured strong foreground elements framing views of distant mountains, with only stylized bands of mist separating the two planes, much like Nagai's Bowl of Fruit.[/box]
[box]2) Three Dancers
gouache on paper
54 x 40 cm
Undated, probably mid to late 1930s
Collection of Mr. and Mrs. Robert F. Jacobs
The title and composition of this work is reminiscent of another 20th-century Social Realist, the Spanish artist Pablo Picasso (1881 – 1973), a co-founder of the Cubist movement. Nagai's limited color palette, comprised mostly of blues, reds, and greens and stark bright white, and his use of strong, angular outlines to define the stage and triangular pose of the dancers, with their elbows raised to form a sharp point, reminds one of Picasso's Les Trois Danseuses (The Three Dancers), painted in 1925. Here Nagai has combined elements of surrealism and cubism to exude a poignancy that is seen as well as felt.[/box]
[box]3) Picnic
oil on canvas
75 x 53 cm
1929
Collection of Mr. and Mrs. Robert Jacobs
A fantastic combination of surrealist whimsy with the familiar and ordinary, Picnic is Thomas Nagai's earliest known painting, debuting in 1929 at the Anderson Gallery in New York. The artist's indebtedness to the Regionalist school, particularly to his teacher, Thomas Hart Benton, is most apparent in this work. The monumental, robust, almost sculptural figures and trees are highly reminiscent of Benton's figurative paintings and murals (See Parks, the Circus, the Klan, the Press, a controversial mural exhibited at the 1933 Chicago World's Fair). Unlike Benton's social realist works, which are imbued with strong overtones, Picnic exudes Nagai's signature method of evoking an intriguing yet unsettling atmosphere with a dash of humor.
The central figure, a tall robust woman, points with her left index finger to an area behind an enormous tree. In her right hand, she carries a "picnic basket" that more closely resembles a tool box. Positioned directly underneath the woman's pointing hand is a small figure who totes a large, heavy sack, perhaps weighed down by potatoes or grain. Here Nagai introduces a sense of mythical mystery and fantasy by inserting similar faceless rounded figures into a scene that would be otherwise mundane. Also, note the humor inserted by the young girl in the bright red dress filching a treat from the woman's picnic "basket."[/box]
[box]4) Woman in Red Coat
oil on canvas
36 x 26
Undated, probably early to mid 1930s
Collection of Mr. and Mrs. Robert F. Jacobs
Nagai's sense of humor and social conscience are readily evident in this small, lively oil painting. An affluent woman sporting a fur stole, red coat, and matching red shoes and hat is walking her exceedingly tiny dog and carrying a petite parasol over her head. The imbalance of scale between this plump, well-fed woman and her tiny umbrella and dog makes her appear ridiculous. This seems to be an obvious expression of Thomas Nagai's distaste of the class distinction between the haves and have-nots during the economic displacement of people during the Great Depression of 1929.
The Social Realist attitude of Nagai's teacher, Thomas Hart Benton, is whimsically expressed in the placement of the stout, well-heeled urban woman on a seemingly rural dirt road. The plump woman with her tiny parasol seems oddly out of place. She appears to have been transported from a 1930s city scene into an Impressionist landscape. Nagai's expressive brushstrokes are a clear departure from Benton's strong outlined forms. The composition's bold color and thick, impasto-like applications of paint used to suggest the jagged rocks, wild grassy fields, and menacing sky is evocative of the virulent brushstrokes and vibrant palette of the Dutch painter Vincent van Gogh.[/box]
[box]5) Weeping Willow by the Sea
watercolor on paper
48 x 63 cm
Undated, probably mid to late 1930s
Collection of Mr. and Mrs. Robert F. Jacobs
Nagai's kinetic line and muted but varied color palette imbue his landscapes with an edgy, moody character. The style of his brisk, even frenetic, brushwork suggests an artist who worked at breakneck pace. Here Nagai's restless brush brings to life the willows and their wild branches that seem to be dancing feverishly in the wind rather than weeping, and the turbulent waves on which ride a multitude of sailboats.
Nagai's energetic treatment of line in this watercolor, applied on both a wet and dry surface, is similar to the brushwork espoused by the Impressionists rather than Japanese in its style. His reliance on line rather than forms or shapes, however, reflects clearly his early training as a Japanese style painter. [/box]
[box]6) The Hope Race
gouache on paper
43 x 58 cm
1935
Collection of Nobuko Nagai
Horses were one of Nagai's favorite subjects. In this image, a compelling contrast of speed and stillness, the thin, irregular, black outlines trailing the two lead horses, including the slight contours that give definition to the inside railing of the track, draw attention to the fast, forward movement of both horses as they strain neck and neck toward the finish line. The artist's reliance on line to give definition and a sense of motion to the composition reflects his early Japanese art training, while in its style and composition Nagai's Hope Race recalls the infamous horse racing images of French Impressionist Edgar Degas (1834 – 1917).
[/box]
[box]7) Still Life – Loose Fruit
oil on canvas
28 x 38 cm
1936
Collection of Tadao Harasawa
A lone figure of a woman is seated in a dark corner by a window and looking out at deserted city streets. The woman's drab clothing and unassuming position makes her seem almost invisible, barely distinguishable from her surroundings. The sense of isolation and loneliness imparted by this painting are reminiscent of the works of Edward Hopper, whose own Social Realist paintings dealt with this theme again and again. One might wonder whether the pieces of fruit, not gathered together in a bowl or basket but rather scattered and separate, may be a metaphor for the isolation and despair many people experienced during the Depression era of 1930s.
A harmony of movement and stillness, Nagai's composition contradicts the static realism and surrealist tone associated with Hopper's imagery. The surface texture of the fruit, table, and wood floor exudes an effervescent shimmer that contrasts the flatness and stillness of the drapes and buildings outside. Nagai's nervous outlining creates a sense of pulsating movement that makes the fruit appear to vibrate on top of the table. The fragmented picture plane and dichotomy between bright and muted tones and shiny and flat surfaces enhance the desolate mood and feelings of loneliness that make this image poetically compelling.
[/box]